One of the things I mentioned in my reflection was networking more and writing grants for my classroom.
Here is what I started for writing grants:
Project 1
The first project I did was created a request in Donorschoose.org. I used Donors Choose to help me create a positive and engaging learning environment. My project is requesting new desks so that I can implement flexible seating with colorful trapezoid tables. My desks now are very old and are falling apart. According to Linsin (2011), attractive classroom draws students in and makes them want to be part of the learning experience. Learning is a twofold, first you need to create a learning environment that fosters a love for learning. The second part is creating instruction based on your students individual needs.:)
Fingers Cross that I get funded!!!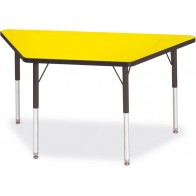 Project 2
My second project is connecting to the Project Learning Tree and Captain Planet Foundation. My goal is to bring the classroom outdoors by fixing our school gardens and connecting to more STEM activities.
Grant Amounts
Project Learning Tree - $1000.00
Captain Planet Foundation - $500-$2,500
If you would like to look into writing a grant for your school garden, check out the links below.
Deadline to Apply for both Grants is September 30, 2016.
Project Learning Tree Grant Information
Captain Planet Foundation