I just discovered Teachers Notebook. When I was Blog Stalking,

Krazee 4 Kindergarten

, I saw the link to this teachers resource site.
I am getting ready for the first day of school. Teachers go back on August 11th to set up and Students start on August 18th.
Here is my reading List and activities for Monday of the first week of school.
Miss Bindergarten Gets Ready for Kindergarten
I like to read this book first because it shows how the teacher and students get ready for the first day of school. For this book, I will be charting what my students did to get ready for the first day of school. I got this idea from

Smorgasboard of Kindergarten

.
ABC with Animals in Park
This book is part of the Wonders Reading Series my school started using last year. With this book, we will read to recognize letters and look for certain letters.
Brown Bear Brown Bear
I love reading this book the first week. The students love to read along with me. Most of my students already heard this story from their Prek class. I will go over colors with this book and play a game of "I Spy". I will also introduce my bear counters center. They will have 15 minutes of free time to practice sorting by color. For closure, students will color the characters from the story.
We Share Everything!
This is a new book for my collection. I just got it from amazon yesterday and read it for the first time. I learned about this book from

Smorgasboard of Kindergarden

. With this book, I will discuss how this is a sharing classroom and that everything in it is for all of us to use and share. I thought about putting students with their buddy partner to practice sharing with a center. I may do this towards the end of the first week to review and remind students how important it is to share. I created a sharing activity for closure. I should post it in my FREEBIES soon.
The Kissing Hand
This is my MOST favorite book for the first day. I always use it in my first week of school. I use this book to discuss feelings and how they felt the first day of school. We also compare their feelings to the character Chester in the book. I created a first day feelings activity for closure. It is also a FREEBIE. Click on the picture to download my FREEBIE.
Please don't forget to leave feedback. :)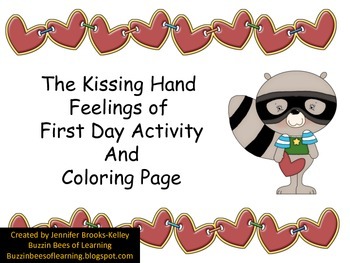 The Night Before Kindergarten
After we had our snack and learned the clean up and pack up for
dismissal routine, we will meet at the carpet for the end of the day story. We will recap on all of the stories from the day and discuss their favorite story and favorite part of the day.
That's A Wrap! I know with all of the activities It should be a fun day! We will be ready for an early night.